Are you looking for a new method of doing business to offer to workers? An Umbrella company can help. It is mainly dedicated to people working alone and helps them avoid having to do administrative tasks. Using this method, people can find more employment. Umbrella companies are popular in a lot of western countries. An Umbrella company in Turkey supports you with payroll services, especially if you don't have any legal structure in this country. Using this solution, clients and workers do not have to worry about taxes, insurance and bills. The Umbrella company in Turkey pay these expenses, and the Payroll company manages payments with the client company. Then, the Umbrella Company sends an invoice to the client each month. Usually, the employee provides a timesheet to the Umbrella Company in Turkey.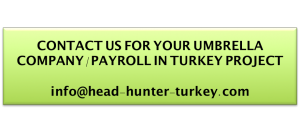 This method of working is original, and has been developed over the past few years. Employees find a permanent position under an Umbrella Company, and they don't have to pay any taxes or insurance.
Why do people choose this type of company in Turkey ? Because workers don't lose their employee status, and can retain their legal security.
For a long time, an Umbrella Company system has been developed in Turkey. In the beginning it was created by unemployed people. They wanted to work without losing their legal status. This method offers workers the option to act as an employee, and to receive the advantages (insurance and tax payment etc.)
Differences between the Umbrella Company Turkey system and the British system
Yes, you can find some differences between the two. In this system you don't have the Turkey HR agency. In an Umbrella Company in Turkey you only have three actors:
– The Payroll company, which pays all taxes and insurance of the employee and finally invoices the client.
– The employee who retains their independence. He/she is under the direction of the client. Also, he/she performs his/her duties in addition to retaining all of their rights. He/she continues negotiations with the client regarding his/her salary. And he/she informs the client of his/her monthly expenses.
– The client pays the Umbrella Company  monthly, in addition to being in contact with the employee who completes his/her jobs.
See more information regarding Payroll in Turkey companies in this article.